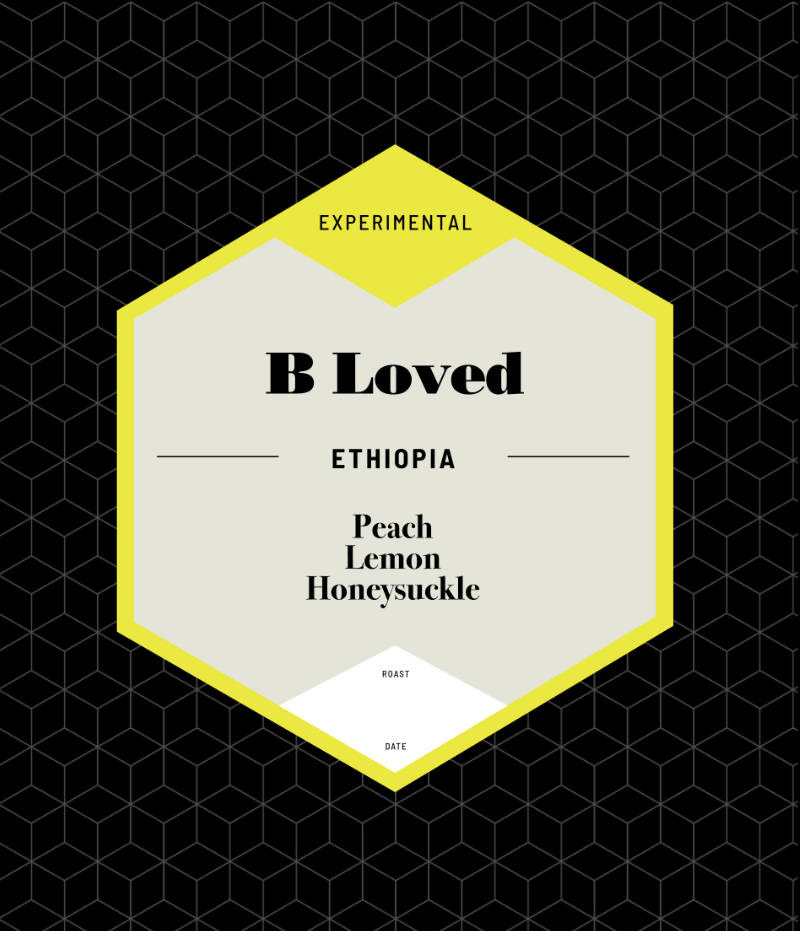 B Loved
SQ1056547
Coffees from this region just speak to us. Clean, vibrant, sweet, floral… simply everything we want to experience in our morning cup!



TECHNICAL:
Origin: Ethiopia

Tasting Notes: Key l

ime, lemon, peach, jasmine, honeysuckle
Region: 

Guji

Process: 

Washed

Farm/Mill: 

Bishan Dimo

Variety: 

Heirloom

Farmer: 

Faysel A. Yonis and Hakime Yonis

 

 

 

 

Altitude: 5,940

 - 6,765 ft

Name Inspiration:

"Could you Be Loved" by Bob Marley

Roast Profile: L

ight
MUSIC INSPIRATION:
ORIGIN STORY

Every time we bring in a fresh Ethiopian coffee, we get the same sense of nervous excitement. We find ourselves thinking, "Can this coffee really be as good as the last one?" It doesn't fail, coffees from this region just speak to us. Clean, vibrant, sweet, floral… simply everything we want to experience in our morning cup. It is with this sentiment that we would like to introduce you to our latest edition of B Loved, one of the best Ethiopias we have ever tasted.
"B Loved" is the name we call these washed Ethiopian coffees at Passion House. Love is what we feel each time we drink them, as the morning brings us from darkness to daylight. 

Faysel A. Yonis was born into a coffee producing family and enjoyed the rich traditions of Ethiopian coffee culture at a young age. He fervently recalls the coffee tree looming over their front yard and the daily coffee ceremonies performed by his mother. His father, Abdosh Yonis, owned two farms near the Chelenko village. But, unfortunately, Abdosh lost his farms during the infamous Derg regime (74' – 87').

Faysel started to harbor an interest in the coffee market in the late 90ties. He became a representative of coffee farmers by introducing and channeling their coffee to the local market. A decade of experience gave Faysel enough confidence to start his own company: Testi Trading PLC. A company dedicated to sourcing specialty coffee within Ethiopia.
The Bishan Dimo washing station is found in the Denbi Uddo kebele – which is part of the Shakiso woreda (Guji). The area of Shakiso is a combination of outstretched hills and mountains that give you the impression that the area is flat. But in fact, the area reaches heights up to 2000 m.a.s.l.
The Guji people are experienced cattle farmers. Amidst the forests, where coffee often grows, large patches of land give cattle enough space to roam. Although Guji is known for its cattle, it has developed itself into a coffee growing region. Entrepreneurs like Faysel are the instigators of this transformation.
Bishan Dimo washing station opened its gates in 2017. Although it is a new site, it already produced several stunning washed and natural lots. Faysel's brother, Hakime Yonis, is the manager of the station and responsible for daily operations.
Washed coffees are fermented for 24/48 hours within clean cement tanks. The parchment is then dried for 10 to 12 days. Naturals are dried for 15 to 18 days, depending on the weather. If rains cross over, the workers are forced to cover the cherries, and drying is delayed.
Faysel and Hakime have plans to purchase the lands of neighbors so that they can install more drying beds. More drying beds ensure that parchment and cherries can be more spread and evenly dried.